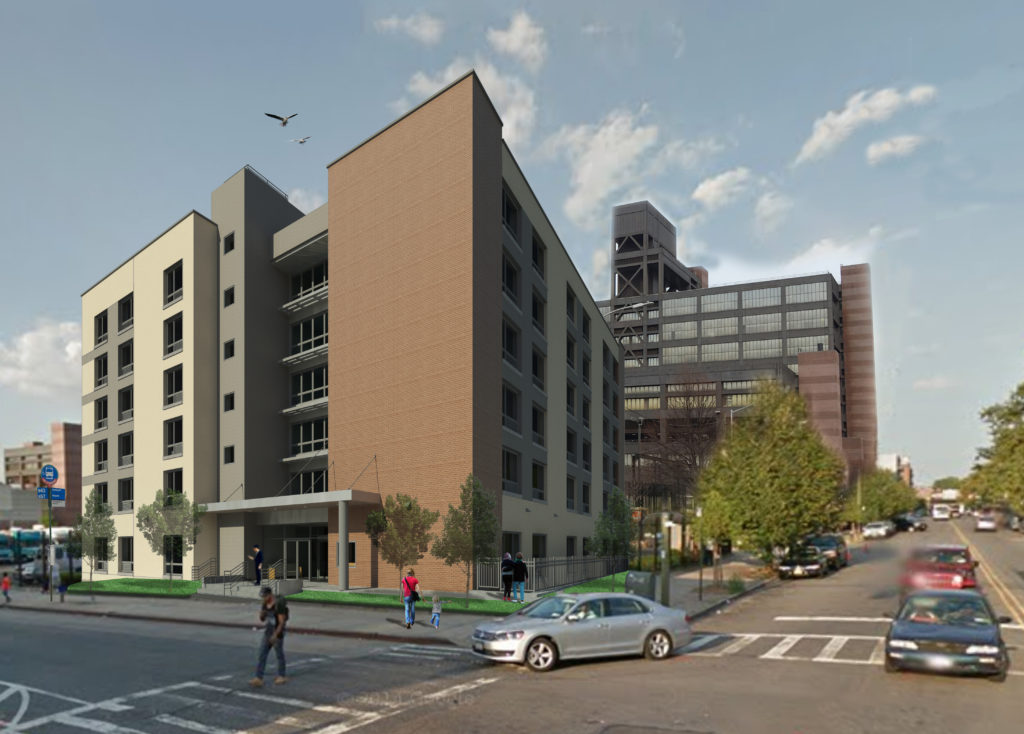 A new building at 179 Throop Ave. in Bedford-Stuyvesant has just launched a housing lottery offering 35 units to low-income renters who qualify. The building is being developed as the Woodhull Residence in partnership with local politicians, the social service agency Comunilife and NYC Health and Hospitals. The goal of the development is to provide housing for patients of NYC Health + Hospitals/Woodhull who are eligible for medical discharge, but do not have permanent residents.
Sixty percent of the building is reserved for referrals from city agencies like NYC Health + Hospitals/Woodhull, while the remaining 40 percent is available to the public through this lottery.  Rents start at $746 per month for studios and go up to $903, varying with income. Interested renters should apply through NYC Housing Connect before the deadline of October 16, 2018.
Apply for the Woodhull Residence Housing Lottery at 179 Throop Ave.
To apply for one of the 35 available units, you must meet the household income requirements. These are set at 50 to 60 percent of the area median income (AMI) or, in other words, between $27,463 and $43,860 annually, depending on family size.
There are other criteria that may influence the selection process. Current municipal employees and applicants with disabilities impacting their audio, visual or mobile facilities receive special preference. Residents who are currently living in Brooklyn Community Board 3 also receive preference.
How Do I Know If I Qualify?
See a breakdown of income requirements below:

>>Learn more about how the NYC affordable housing lottery works
About the Woodhull Residence Housing Lottery
The new six-story, 53,200 square foot development dubbed the "Woodhull Residence" is built on the NYC Health + Hospitals Woodhull campus and will have 89 studio units total.  Built in partnership with Comunilife, this project will bring much needed housing to those with special needs as well as affordable options to low-income residents.
Unlike other housing lotteries with a mix of apartment and household sizes, this one is geared toward single household applicants offering studios only. While each studio will have a kitchenette instead of a full kitchen, the amenities offered are in line with new buildings. These include 24-hour security, laundry facilities, bike storage, community room, and computer room.
Residents will also have easy transportation access as the building is close to the J, M, Z, and  G lines at Flushing Avenue.
How Do I Apply?
You can apply online here. If you qualify, you will have an interview to review and confirm your eligibility. Interviews typically occur anywhere between two and 10 months after the application deadline. Be sure to go to the interview prepared. Bring documents that verify your household size, the identities of those in your household, and your household income.
When Is the Deadline?
The deadline to apply is October 16, 2018.