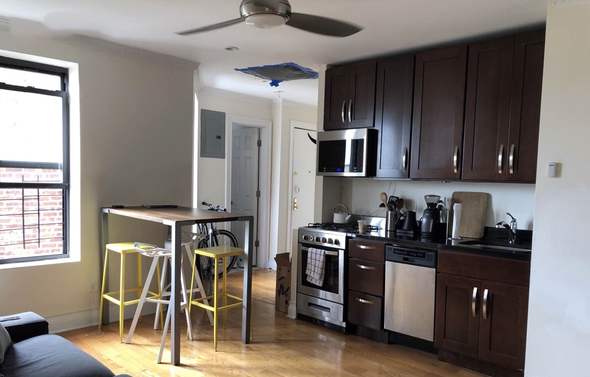 While many North Brooklyn residents are anxious about the impending L train shutdown, there's a silver lining —  rents are falling in Williamsburg. Rental apartments along the L train are not just listing lower prices than in years past, but also offering discounts and concessions. According to StreetEasy, nearly half of all apartments in Williamsburg are renting for an average of $250 less than they were two years ago. Folks, the writing is on the wall: Now's the time to rent in Williamsburg if you want land a budget-friendly deal. If you can deal with a diverted commute, consider this renovated 1-bedroom near Union Avenue.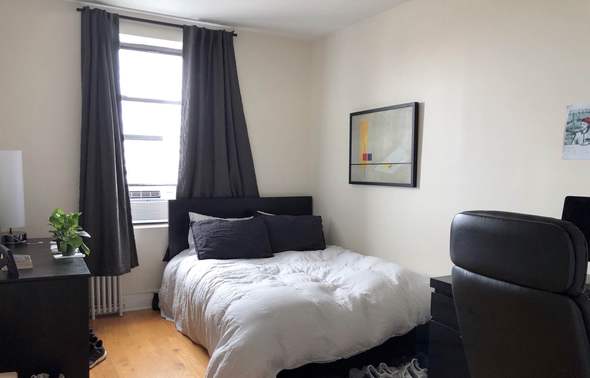 Williamsburg 1-Bedroom With Laundry… In-Unit!
Is this a luxury high-rise? Not quite, but the new marble-tiled bathroom does make an opulent impression. The apartment gets decent sunlight thanks to windows in each room and common areas, while the bedroom has ample space for a queen-size bed.
There's a combined kitchen and living room, which will make entertaining or hosting a dinner party easy. While the kitchen is tight on counter space, there is room for a small table or island to add more work surface area for those that cook. The stainless steel appliances are new and, best of all, the unit even boasts in-unit laundry as well as a dishwasher.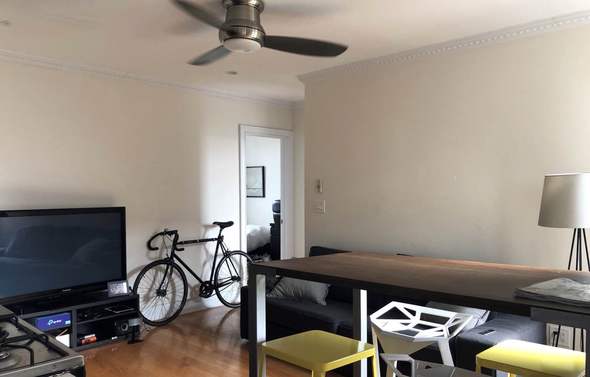 The Price: $2,295
Listed at $2,295, this apartment is priced significantly below Williamsburg's median asking rent of $3,208 and most likely won't last long on the market. Keep in mind that there is a broker's fee on this place, which will add another 15 percent fee, or $4,131, to upfront moving costs.  While no-fee 1-bedroom apartments can certainly be found in Williamsburg, they most likely will not come with in-unit laundry at this price point.
Apartments in Williamsburg
What It's Like to Live in This Pocket of Williamsburg
Located on Union Avenue just north of the Broadway Triangle, the building is removed from the congestion of Bedford Avenue and offers an unpretentious, local vibe. Bodegas, pocket parks and walk-up apartment buildings are more common in these parts than artisanal cheese shops, CrossFit studios and luxury high-rises. As for nightlife, there's plenty of it, just don't expect the $15 cocktail bars you'll find along Wythe Avenue. Bars like the duckduck and Duff's are favorite dives in the area while Trophy Bar stands out for its large back patio and easygoing atmosphere. 
As an added bonus, the apartment is close to other transportation options besides the L train. Tenants could easily walk to the G at Broadway station or the J and M lines at Hewes Street Station.