A new housing lottery at 960 Prospect Ave. and 961 Reverend James A. Polite Ave. in the Morrisania section of the Bronx has just launched offering 83 units to low-income renters who qualify. The new project, referred to as Thessalonia Manor, will be spread across two building sites. Rents start at $929 per month for 1-bedrooms and go up to $1,289 for 3-bedrooms, varying with family size and income. Interested renters should apply through NYC Housing Connect before the deadline of October 26, 2018.
Who Should Apply for the Thessalonia Manor Housing Lottery?
To apply for one of the 83 available units, you must meet the household income requirements. These are set at 60 percent of the area median income (AMI) or, in other words, between $33,806 and $72,600 annually, depending on family size.
There are other criteria that may influence the selection process. Current municipal employees and applicants with disabilities impacting their audio, visual or mobile facilities receive special preference. Residents who are currently living in Bronx Community Board 2 also receive preference.
How Do I Know If I Qualify?
See a breakdown of income requirements below: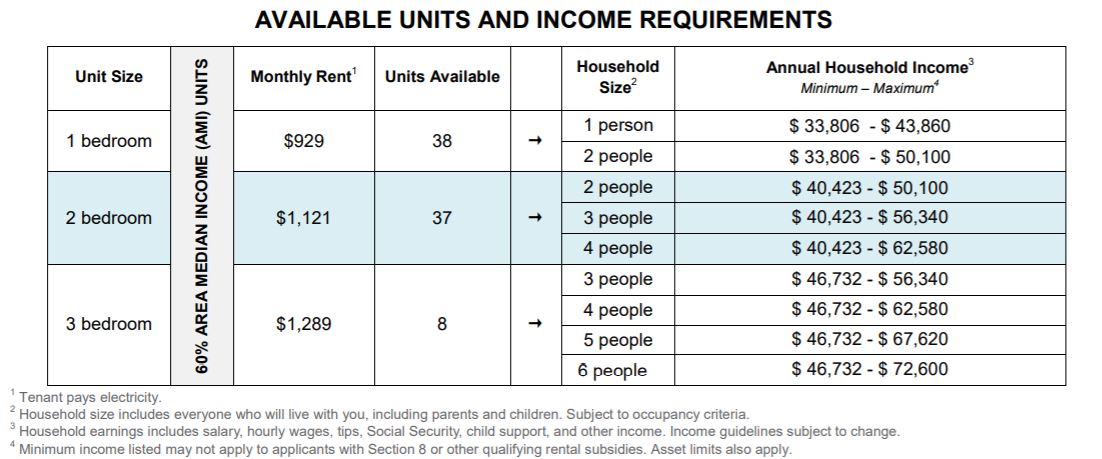 >>Learn more about how the NYC affordable housing lottery works
About the Thessalonia Manor Housing Lottery
The new housing lottery dubbed "Thessalonia Manor" is being constructed in partnership with CMC Development Group LLC, a major developer of affordable, green and sustainable housing in New York City. This latest project consists of two adjoining buildings, one 7-story and one 8-story, providing 120 rental units total. The building will feature ample amenity space including a  community room, laundry facilities, courtyard, and roof top terrace.
Residents will also have easy access to Manhattan as the project is close to the 2,5 trains at both Prospect Ave and Intervale Avenue stations.
How Do I Apply?
You can apply online here. If you qualify, you will have an interview to review and confirm your eligibility. Interviews typically occur anywhere between two and 10 months after the application deadline. Be sure to go to the interview prepared. Bring documents that verify your household size, the identities of those in your household, and your household income.
When Is the Deadline?
The deadline to apply is October 26, 2018.