New York City is a huge, sprawling city encompassing five boroughs and 305 square miles. Sure, that sounds spacious, but just keep in mind that there are over 8.5 million New Yorkers packed in here. How are all those people able to find apartments and where do they all live? With an notoriously low NYC vacancy rate, it's no surprise why it's so hard to find an apartment here. Let's dig into the numbers what exactly is going on.
How Many Apartments are There in New York City?
According to the 2018 New York City Housing and Vacancy Survey, there are a total of 3,469,240 units of housing in New York City, up by 69,000 from 2014 when the survey was last taken.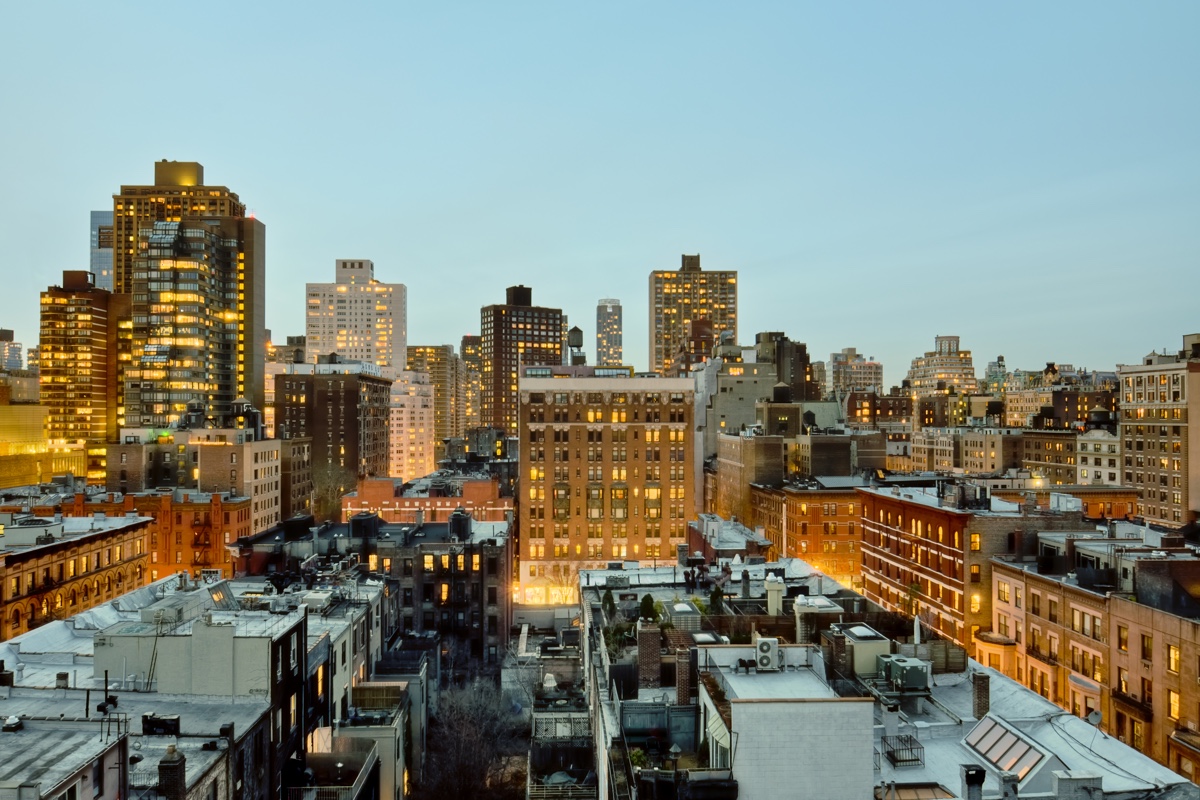 But Where is All That Housing Located?
Roughly a third of all New York City housing is located in Brooklyn, or 1,034,000 units. Manhattan and Queens together account for another quarter of New York City housing stock, while the Bronx and Staten Island account for 15 and five percents, respectively.  See the table below for the most recent number of housing units in each borough.
| Borough | Units of Housing |
| --- | --- |
| Brooklyn | 1,034,000 |
| Manhattan | 878,000 |
| Queens | 851,000 |
| Bronx | 527,000 |
| Staten Island | 179,000 |
Rentals Account for the Majority of New York City Housing Stock
Rental apartments comprise 63 percent of New York City's total housing. In raw numbers, that's 2,183,064 units. By comparison, thirty percent of New York City's housing stock are owner-occupied units, accounting for 1,038,700.
A big portion of the rental housing in New York City is rent-regulated. According to the survey, 44 percent of all rental units are rent-stabilized, meaning that rent increase are set on an annual bases by the Rent Guidelines Board of New York City. This means a landlord can raise the rent only by a certain percentage when renewing the lease. The following terms have been set for the Rent Guidelines Board for rent-stabilized leases renewed between October 1, 2018, through September 30, 2019:
1-year lease: 1.5 percent
2-year lease: 2 percent
Rent-controlled units make up a much smaller proportion of the rental housing stock in New York City, accounting for only percent of the total number of rental units.
But It's Not Necessarily Easy to Find a Rental Apartment
You'd think that with the majority of apartments in New York City being rental units, it would be easy to find an apartment. Unfortunately, that's not the case. The vacancy rate, or the number of units that are available and able to be rented, in New York City is notoriously low. A low vacancy rate typically indicates lows supply of units and a more difficult environment for renters looking for apartments.
NYC Vacancy Rate Defines the Rental Search
Across New York City, the rental vacancy rate was most recently recorded at 3.63 percent, which translates to about 79,000 units. That is much lower than the national vacancy rate, which was last recorded at an average of 6.9 percent.
The vacancy rate is the highest in Manhattan at 4.73 percent and the lowest in the Bronx at 2.71 percent. See the table below for a breakdown by borough of vacancy rates.
| Borough | NYC Vacancy Rate |
| --- | --- |
| Manhattan | 4.73% |
| Staten Island | 3.73% |
| Queens | 3.5% |
| Brooklyn | 3.28% |
| Bronx | 2.71% |
The NYC vacancy rate varies greatly by price with higher vacancy rates among more expensive apartments and lower vacancy rates among less expensive apartments. The vacancy rate for apartments over $2,500, for example, is 8.74 percent compared. By comparison, it is 2.52 percent for apartments between $1,000 and $1,499 and the 4.11 percent for apartments between $1,500-$1,999. These numbers suggest that renters who are looking at lower price points will face much lower inventory and much more competition than renters who are searching at higher price points.
Thankfully the city has made efforts to create more affordable housing, which can often be attained by entering the New York City housing lottery.