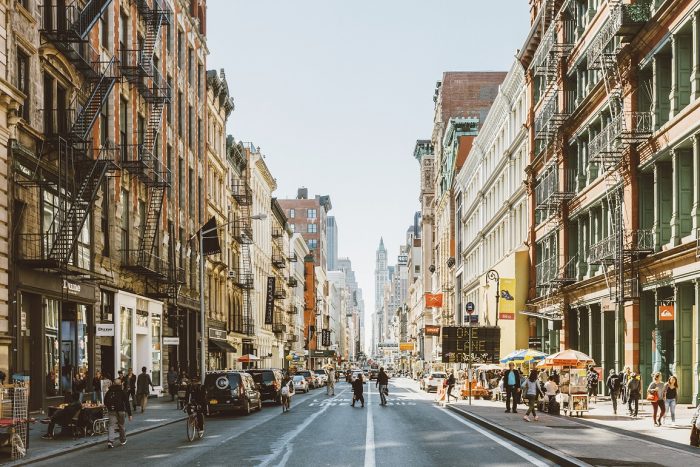 New York City's housing market differs from so many in the United States in that it is primarily a renters city. Sixty-nine percent of the 8.5 million residents that live here are renters, while 31 percent own (link to high demand low supply guide). A low vacancy rate at 3.6 percent means competition for the available apartments is stiff. If you plan on apartment hunting in this city, put your pads on and check the crash course below of NYC's rental market landscape.
1. Lower Your Expectations
In New York, you always pay more and routinely get less. Get ready for an apartment's flaws to be marketed as "quirky" or "classic New York". Slanted floors are "funky"; three hundred square feet of space is "cozy"; a bathtub in the kitchen is "authentic". Be prepared for small spaces, dated appliances, and decorating challenges. Your budget will buy even less if you have your heart set on trendy neighborhoods like Tribeca or the West Village. Finding the perfect home here will require perseverance and compromise.
2. Apartments Move Fast
Many apartments you see listed online have been rented by the time you inquire about them. It's not bait and switch (well, maybe sometimes) – it's simply that apartments move fast. Demand is high, vacancy is low, and landlords and agents don't keep meticulous track of their ads or communicate very well about inventory. That's why Naked Apartments created specialized algorithms to take down listings in a timely fashion. We also think it's useful for you to know how long a listing has been on the site so you can better gauge its availability. If the listing has been up for a few weeks, especially if it's past the stated availability date, chances are it is stale and may be gone by the time you inquire.
3. The NYC Rental Market is an Agent-driven One
NYC landlords are living large in today's market – they have the luxury of raising rents and knowing they can get their price. With demand being so high and vacancies so low, agents can fill vacancies in days, if not hours. Many landlords don't have to work directly with renters, so renters who want to avoid paying a broker's fee have limited apartments to choose from.
4. NYC has Some of the Highest Rents in the Nation
Although San Francisco has taken the number one spot, New York City consistently ranks in the top 5 most expensive cities in the United States. The median rent for Manhattan is $3,500 per month. Such high prices are certainly a deterrent, but residents make it work and it's not uncommon for New Yorkers to have roommates.