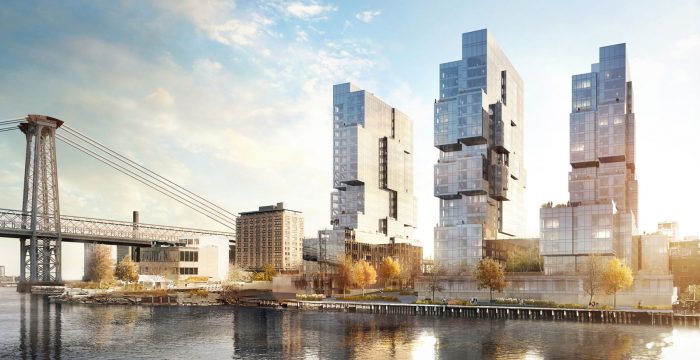 A new housing lottery has opened at the long anticipated 416-420 Kent Ave. in South Williamsburg, in a complex resembling Jenga-like towers. Of the 857 apartments being developed, 65 will be offered to low-income renters. Rents start at $565 for studios and go up to $2,733 for 2-bedrooms, varying with family size and income. Interested renters should apply through NYC Housing Connect before the deadline of Aug. 13, 2018.
Who Should Apply for the 416-420 Kent Ave. Housing Lottery?
To apply for one of the 65 available units, you must meet the household income requirements, which are set at 40, 60 and 130 percent of the area median income (AMI), or between $21,257 and $135,590 annually, depending on family size.
There are other criteria that may impact the selection process. Current municipal employees and applicants with disabilities impacting their audio, visual or mobile facilities receive special preference. Current residents of Brooklyn Community Board 1 also receive special preference.
How Do I Know If I Qualify?
See a breakdown of income requirements below:
>>Learn more about how the NYC affordable housing lottery works
About 416-420 Kent Ave.
Designed by ODA Architects and developed by former New York Governor Eliot Spitzer of Spitzer Enterprises, this three-building complex will have a unique cantilever design resembling a Jenga game. With the shifting floor design, it will allow for private terraces and plenty of light and views. According to the architects, more than 80 percent of the apartments will be corner units. The 22-story buildings are located on the East River just south of the Williamsburg Bridge. Amenities include: gym, lounge, laundry, concierge and washer/dryer. Transit for the building is via the J, M and Z trains and B62, B67, B32 busses.