In a city where cocktails easily cost $12 a pop, a night out can have a big impact on your budget. If you are working with limited funds, fear not. Here we've compiled a wallet-friendly list of cheap happy hour bars in NYC. While these establishments may not be known for their top shelf whiskey or vintage wines, they do well drinks and cheap happy hour right.
Best Cheap Happy Hour Bars in Manhattan
The Library (7 Ave. A., East Village): While this place is lined with books, it is no place for a quiet study session. Head to The Library to get your fill of budget-friendly booze. Cheap happy hour deals including $5 beer and shot combos, and $6-7 drafts are what they are known for.
McSorley's Old Ale House (15 E. 7th St. East Village): Established in 1854, McSorley's has bragging rights for being the oldest continuously operated bar in NYC. Less is more here with just two tap choices — light or dark. Pints will set you back $5.50. Saltines and hot dogs are their budget-friendly bar snack staples.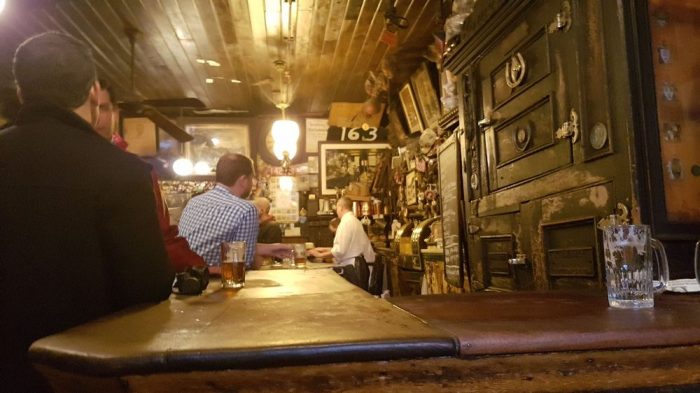 Rudy's Bar & Grill (627 9th Ave., Hell's Kitchen): This Hell's Kitchen haunt is a godsend when you're both tipsy and hangry… or just plain broke. Each $3-6 drink is served with a…. hot dog.  
Ace Bar (531 E. 5th St., East Village): In addition to skeeball and pinball, Ace Bar has an unbeatably cheap happy hour deal with $3 beers and $5 well drinks.
Double Down Saloon (14 Ave. A, East Village): This punk rock dive does raunchy well with heaps of graffiti, questionable video entertainment and cheap drinks to match.
Sophie's  (509 E. 5th St., East Village): Sophie's is a great place to guzzle down $4 pints with a gang of friends or solo… No shame in solo guzzling, especially for under $5.
Johnny's Bar (90 Greenwich Ave., West Village): This West Village watering hole is an excellent spot for quiet day drinking or a post-work sip. Shot of the day specials and daily $3 beer deals make Johnny's a no-brainer.
Jeremy's Ale House (228 Front St., FiDi): This is perhaps the only spot in South Street Seaport with drinks that won't cost a fortune. For under $10, you can get 32 oz of beer. And if you're an early bird, their "eye opener" special can't be beat with $1.75 Coors from 8 a.m. to 10 a.m. Rise and shine!
The Duck (2171 2nd Ave., East Harlem): This most dive-y of dives offers well drinks in the $3-5 range. Try not to be picky with your liquor, please. It's a dive after all!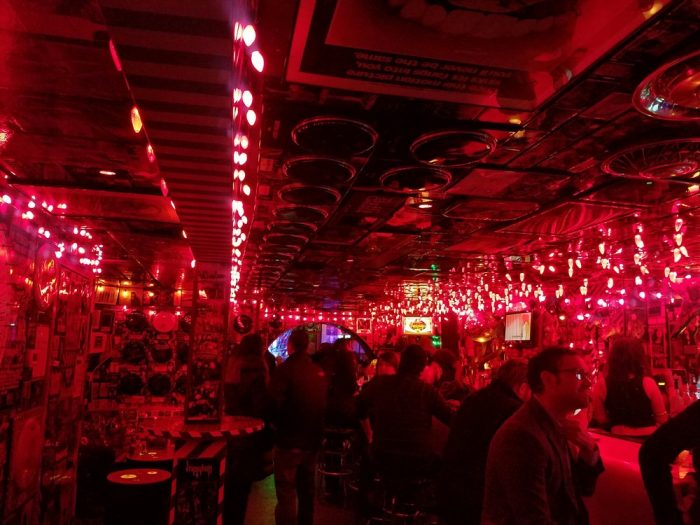 Best Cheap Happy Hour Bars in Brooklyn
Turkey's Nest Tavern  (94 Bedford Ave., Williamsburg): If you prefer to take all your drinks in 32-ounce cups, this is the place for you. Six dollars gets you a hefty beer.
Duff's  (168 Marcy Ave., Williamsburg) : This heavy metal bar is hard on riffs, soft on wallets. With $1.50 PBR specials, Duff's offers their patrons plenty of liquid courage, which anyone who tests out their famous "electric shocker chair" will need. Don't worry — it's a gag. 
Call Box Lounge (2 Lombardy St., East Williamsburg): As their blue awning states, this small family-owned venue is "Where Good Friends Party Hardy." With $3 domestic, $4 imported beers and $5 well drinks you'll be partying hard in no time.
Half Court Sports Bar (446 Park Pl., Prospect Heights): This no-nonsense bar is the neighborhood's go-to destination for games. Just take note of the rules. While they don't allow drinks from outside of any kind, you can bring in food end enjoy a $5 beer from the bar.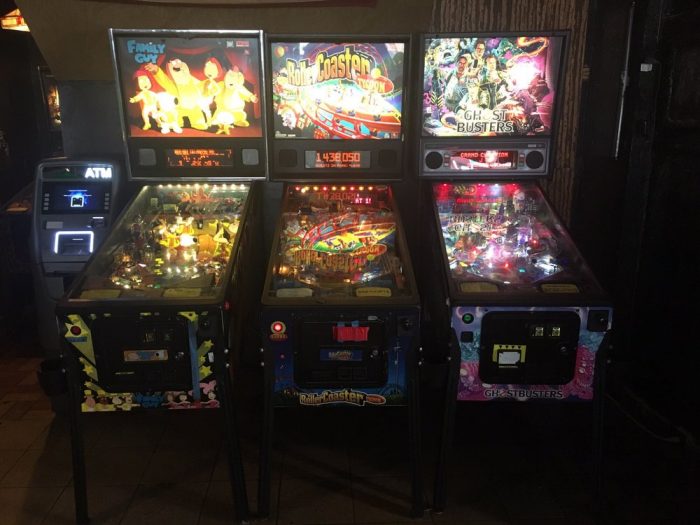 Best, Cheap Happy Hour Bars in Queens
The Local Bar  (41-04 31st Ave., Long Island City): With three beers for $10 drink specials, it's no wonder this watering hole is a local favorite.
Studio Square Happy Hour (35-33 36th St., Long Island City): Come during the week for the happy hour and have your pick between $4 beers and sangria.
Bonus Room (991 Wyckoff Ave., Flushing): This wood-paneled bar is laid-back and cheap, offering $4 well drinks and $5 PBR shot combo along with pinball and arcade games.
Mad Donkey (32-07 36th Ave., Astoria): Mad is the operative word at this dive. True to its name, the bar's got a rowdy vibe and mad cheap drinks. Beer ranges from $4-6 and the grub is affordable too.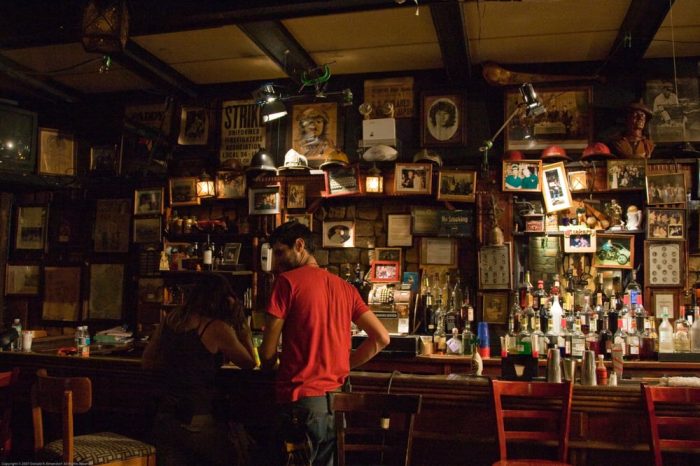 Best, Cheap Happy Hour Bars in the Bronx
The Jolly Tinker  (2875 Webster Ave., Bedford Park): Don't let the unassuming yellow brick facade fool you. Twelve dollar pitchers are served up during happy hour and beer and drink specials are all under $7. The best part? Happy hour is several hours, running from 11 a.m. to 8 p.m.
The Dugout (880 River Ave., Concourse) Don't bother with the $20 Coors Light at Yankee Stadium. Stop by The Dugout, which located just across from the stadium, for your fill of $4 beers before the game.  
Glacken's Bar & Grill (135 E. 149th St. Concourse Village): This longtime neighborhood favorite is so good, it earned a shout out in the 1990s Brand Nubian hit 'All for One.'  Decades later the drinks are still strong and cheap.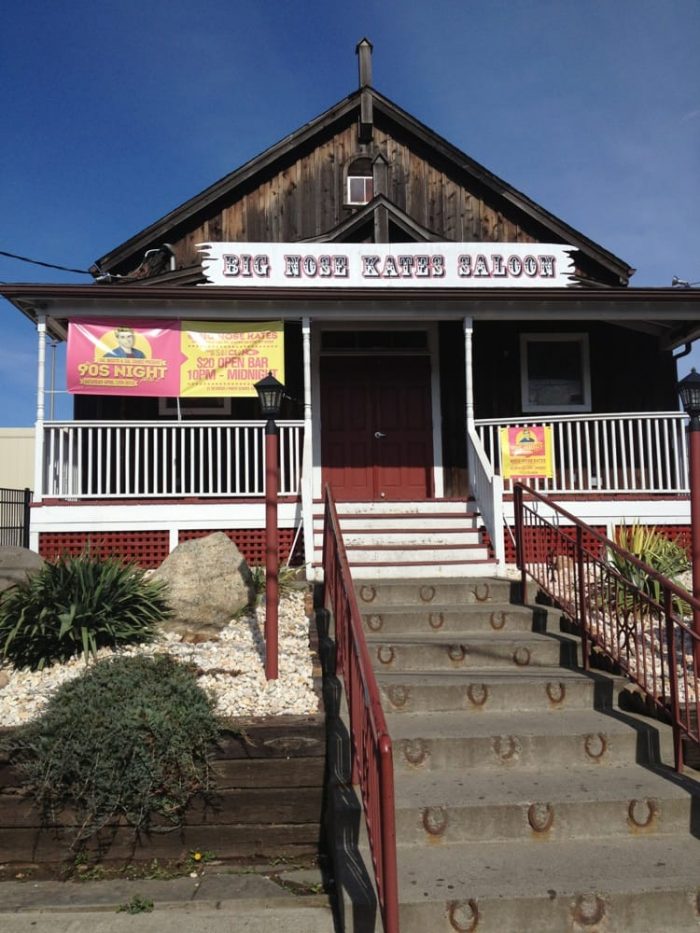 Best, Cheap Happy Hour Bars in Staten Island
The Beer Garden (1883 Victory Blvd., Westerleigh): While there isn't actually a garden, this no-frills dive has a legit happy hour with buy one, get one free drink deals and half-priced apps.
Jimmie Steiny's Pub (3 Hyatt St.,St. George): Super convenient for Staten Island ferry commuters, Jimmie Steiny's has $3 Bud and Blue Moon specials. Newcastles will set you back just $5. 
Big Nose Kate's Saloon (2484 Arthur Kill Ave., Rossville): The name alone makes this ramshackle bar worth a visit. Once there, thirsty patrons can soak up cheap drinks and the unusual Southwest meets East Coast vibe.